The Pattern Poole Scrap Book Entry 1
See what other's have made from our Pattern Poole Sewing Group
Last week we added a post to our private Facebook group, asking members to submit their work and this is the result. We love seeing our members' photos and hope you enjoy seeing all their creative talents!
Julie has made the Miss Daisy pattern and used black for the background and for the QAYG cover strips giving the quilt a cool floating look! - Well done Julie!
Lorraine has made the Cherry Cheer pattern but instead of using red like we did she added some beautiful autumn colours and we are in love!
A beautiful, fun, and floral Miss Daisy made by Jodi. The lovely placement of colour with the yellow pinwheels and diverse background fabrics ties it all together. Great work!
Janet Diaz has been on fire making plenty of Pattern Poole applique designs. Janet has created her own take on the Ocean Blue applique set with her whale quilt and sea creature quilt which were planned out by Janet herself. The dreamy blue colours tie all these appliques together! We love it!
A pink Giraffe and Blue owl - we are sold. The colour palette in both of Christine's designs is extremely effective! The pinks in the giraffe and blues in the owl are broken up with bright contrasting colors adding depth to her work.
Diana has created a beautiful quilt using her favourite Pattern Poole applique patterns. The additional text adds a lovely point of view to the quilt that draws your eyes all over the design. We love the layout and colours - how lucky is Maddison!
Candance's blocks from our free QAYG along on YouTube look so cute and dreamy, the pops of purple and bright turquoise go great with the pastel green and the neutral tones. We can't wait to see this joined together!
When we saw this we were instantly obsessed! Vanessa has created her own QAYG quilt using the French Braid block from our free QAYG along. We love the arrangement of the blocks and the contrast of the patterned background offering depth. This is very modern and chic!
Stacey has made a gorgeous sampler quilt and the mix of colours and pop of green is really effective! It draws our eyes all over the image showcasing all her work. Well done Stacey!
Shirley has made the cutest rabbit quilt using our Ruby Rabbit applique pattern. We love the giant rabbit in the centre and the great use of fabric panels in between featuring rabbit fabric. Well done!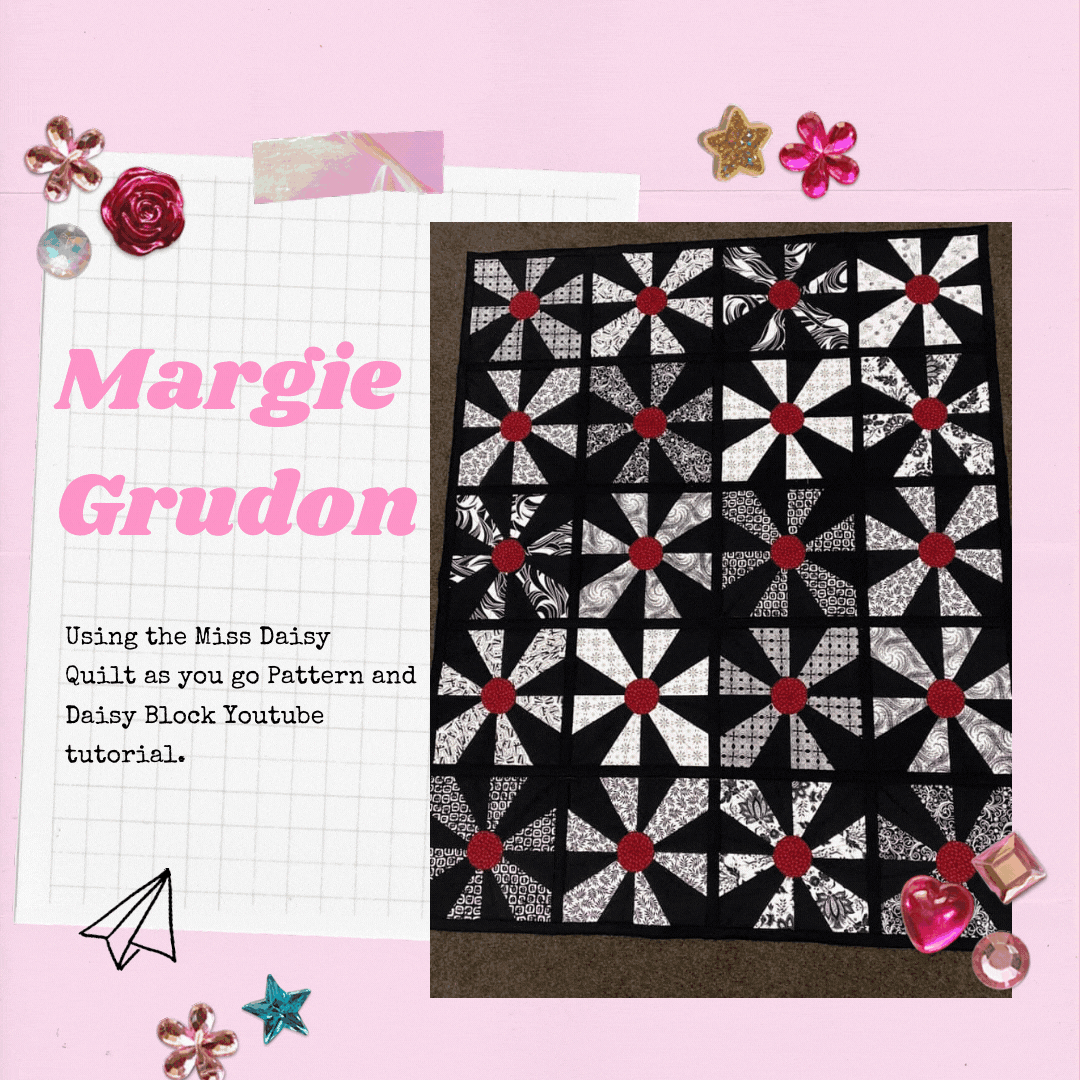 Margie has made a stunning Miss Daisy quilt and has positioned the blocks in such a perfect way creating another design within the design! This is so creative and clever! We love it!
Shanarz's cute blocks from our free QAYG along are divine! The pop of lime green is so stunning in contrast to the blues and purples. We are very excited to see these joined together!
Another gorgeous Miss Daisy by Angela using white colour strips and background. This colour palette is so fresh and timeless! Well done!
Nita has made a cute pinwheel-style quilt using the easy cover strip method. The placement of the colours really enhances the pinwheel design and we love it!
If you would like to enter your photo for the next scrapbook entry please email studio@patternpoole with a clear front-on photo of your work. Thanks for reading, Lots of love, Monica & Alaura